About

The LARGE LIFE LIMITED, was founded in 2003 in Manchester, The United Kingdom by its current owner and president as an entity to drive its premium nutritional supplement brands and business in Europe and globally. Having invested heavily into the new product design, development, ingredients sourcing and ultimate quality standards within the complete process, the company and its key brand of AMIX™ Nutrition conquered the attention of many premium quality-minded consumers across Europe.

With its rapidly growing distribution and sales of its high-performance products, the firm has become one of the well-respected producers in the field of sports nutrition and supplementation in Western Europe capturing the taste of many from the ranks of true professionals all the way to the other sports, bodybuilding and fitness trainees. Over the years, the Large Life's registered trademark AMIX™ Nutrition matured into the top market benchmark. With solid fundaments and rapidly growing demand also across the Central Europe and markets further East, these facts also contributed to the company's decision to build its new state-of-the art R&D, manufacturing and logistics facilities in the very center of the European Union.
The company's continuous quest for being the very best by utilizing the highest-grade ingredients, the latest technologies all around the advanced and innovative scientific know-how proved to mature into the firm's strongest competitive advantage within the realm of the of sport nutrition world-wide. The AMIX™ Nutrition learned to respect and exceed wishes of its most demanding and performance oriented consumers, often to become the trend setter in many of its markets.
| | |
| --- | --- |
| | The AMIX™ Nutrition's futuristic and expressive design help distinguish the product portfolio even further. It clearly reflects its high-end research behind the products performance-enhancing characteristics and esteemed taste satisfying the requirements from various corners of Europe and soon also of consumers from Asia, Arabia and Americas. It is where the products ranging from the simple basic formulas up to the "hardcore" specialty mixtures continue to gain extreme popularity. |
The AMIX™ Nutrition truly represents the very best, recreational sportsmen and women, wellness enthusiasts, fitness maniacs and top professional bodybuilders can use to achieve their goals. It is the premium performance, synergized with delicate taste, all available at highly competitive pricing that have turned the consumers to swear by AMIX™ Nutrition.
For a complete range of the AMIX™ Nutrition products and more information about the exciting developments and news within the Large Life Limited, please refer to www.amix-nutrition.com.
MyoCell® 5 Phase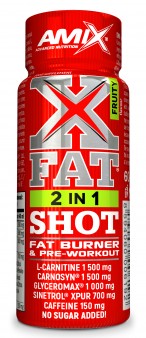 XFat® 2in1 SHOT is an excellent fat burner & pre-workout formula. mehr
CFM® Nitro Protein Isolate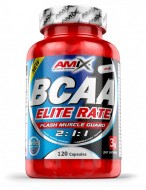 BCAA Elite Rate is a special formula composed of Branched Chain Amino Acids ( BCAA) L-Leucine, L-Isoleucine, V-Valine in an easy-to-swallow capsules. mehr
Detonatrol™