Creatine Ethyl Ester tbl.
AmixTM Creatine Ethyl Ester HCL (CEE) is creatine monohydrate with an ester attached. Esters are organic compounds that are formed by esterification - the reaction of carboxylic acid and alcohols. The esterfication process could allow more creatine to pass through cell walls, thus making smaller does more effective, and less wasted creatine.
-

        
Increases Lean Muscle Mass
-

        
Increases Strength & Power
-

        
Intense pumps and vascularity
-

        
Greater endurance
-

        
Faster recovery
Recommended use:
Take 4 tablets twice daily. Take one serving with 300-500 ml of water 30 minutes prior to training. Continue water consumption throughout the workout. Immediately after training take an additonal serving with 300-500 ml of water.
Active ingredients                                   % Daily Value*
Other Ingredients:
Microcrystalline Cellulose, Colloidal silicon dioxide, Sodium starch glycolate, Sodium stearyl fumarate, Magnesium stearate
* Daily Value (DV) not established
Best before end:
see packaging. Store at a temperature not exceeding 25oC in cool dry place away from sunlight. Warning: Do not use this product if you are pregnant or nursing. The product is not designed for children. Keep away from children. Do not exceed recommended daily dosage! The producer is not liable for any damage caused by improper use or storage.
MyoCell® 5 Phase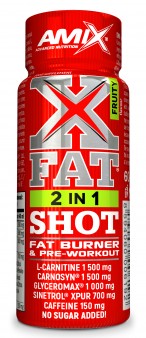 XFat® 2in1 SHOT is an excellent fat burner & pre-workout formula. mehr
CFM® Nitro Protein Isolate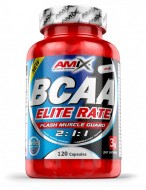 BCAA Elite Rate is a special formula composed of Branched Chain Amino Acids ( BCAA) L-Leucine, L-Isoleucine, V-Valine in an easy-to-swallow capsules. mehr
Detonatrol™