Carni4 Active drink 700ml
AMIX™ Carni4 Active Drink
Fresh flavoured drink supporting the burning of fat reserves and improving of physical performance by using energy from subcutaneous fat. It also helps to strengthen immunity system and better concetration.
Ingredients per 100 ml: purified water, stabilizer: Litesse® Ultra - polydextrose, acidifying agent: citric acid, natural, nature identical and artificial aroma, L-Carnitine Base 171 mg, Taurine 142,8 mg, preservatives (potassium sorbate, sodium benzoate), DMAE dimetylaminoetanol 42,9 mg, sweeteners: acesulfame K, sucralose, dye: sunset yellow, ponceau 4R
Recommended dosage: 1-2 bottles /day.
 
Energy: 14,9 Kcal / 62,7 kJ
Best before end: see packaging. Store at a temperature not exceeding 25°C in cool dry place away from sunlight. Warning: Do not use this product if you are pregnant or nursing. The product is not designed for children. Keep away from children. Do not exceed recommended daily dosage! Sunset yellow and ponceau 4R may adversely affect the activity and attention in children. Shake before use. After opening consume within 24 hours.
MyoCell® 5 Phase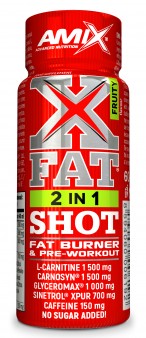 XFat® 2in1 SHOT is an excellent fat burner & pre-workout formula. mehr
CFM® Nitro Protein Isolate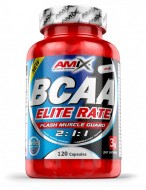 BCAA Elite Rate is a special formula composed of Branched Chain Amino Acids ( BCAA) L-Leucine, L-Isoleucine, V-Valine in an easy-to-swallow capsules. mehr
Detonatrol™