CFM® Nitro Protein Isolate
09.10.2013
CFM® Nitro Protein Isolate is the TOP quality and purity protein supplement composed of premium Glanbia CFM® whey protein isolate and the patent-pending nitric oxide synthase activating peptide ActiNOS™. This unique complex ensures the highest biological value and delivers the full spectrum of amino acids with the highest concentration of BCAAs and other essential aminoacids. CFM® Nitro Protein Isolate is much more absorbable for the organism, thanks to inclusion of very special Aminogen® protease blend and bacteria of intestinal microflora Lactospore®.
CFM® Nitro Protein Isolate  is virtually fat and lactose free and is sweetened with stevia and sucralose and therefore it is completely Aspartame FREE!
Benefits:
protein contributes to a growth in muscle mass
protein contributes to the maintenance of muscle mass
exceptionally high protein content (90%)
contains Aminogen® and Lactospore®
instantized form
aspartame free
sweetened with stevia extract and sucralose
virtually lactose free
Aminogen®
Patented protease blend (protein hydrolyzing enzymes).
Recommended use: Mix 1 scoop (1 heaping scoop = 35g) of CFM® Nitro with 200 ml of cold water or low fat milk. Use a blender or hand held shaker, mix for 30 seconds. Have 2-3 servings daily between meals, depending on daily need of proteins.
 

Serving size: 1 heading scoop (35 g)                                                       

Calories: 380       Calories from Fat: 13,5

patent-pending nitric oxide synthase activating peptide

 

 

Aminogen®

- patented protease blend

*Percent Daily Values are based on a 2.000 calorie diet.

    Your Daily Values may be higher or lower, depending on your calorie needs.

** Daily Value not established
Typical Amino Acid Profile Per 100g of CFM® Protein

* Essential Amino Acids     † Branched Chain Amino Acids

** Glutamine values based on glutamic acid content
Ingredients: CFM® - cross flow microfiltered whey protein isolate with protein fractions /beta-lactoglobulin, alpha-lactoglobulin, bovine serum albumin, immunoglobulin, glycomacropeptide, lactoferrin, lactoperoxidase/, cocoa powder (only in chocolate and banoffee flavour), stabilizers: xanthan gum, guar gum, collagen hydrolyzate, soya lecithine, aroma, sweeteners: steviol glycosides, sucralose and acesulfame-K, ActiNOS™ - selectively enriched bioactive peptides and proteins from whey, dye: (banana flavour - curcumin, strawberry flavour - beetroot extract), Aminogen® (maltodextrine, protease blend), LactoSpore™ (Lactobacillus sporogenes, maltodextrine).
MyoCell® 5 Phase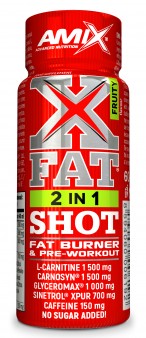 XFat® 2in1 SHOT is an excellent fat burner & pre-workout formula. mehr
CFM® Nitro Protein Isolate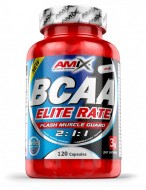 BCAA Elite Rate is a special formula composed of Branched Chain Amino Acids ( BCAA) L-Leucine, L-Isoleucine, V-Valine in an easy-to-swallow capsules. mehr
Detonatrol™