Green TEA Extract with Vitamin C cps.
AMIX™ Green Tea with Vitamin C ist ein Ergänzungsmittel, das sich aus natürlichem Grüntee-Extrakt und Vitamin C zusammensetzt. Grüner Tee enthält eine große Menge an Poliphenolen, die als Antioxidantien dabei helfen, freie Radikale zu beseitigen. Grüner Tee ist außerdem ein Stimulans, das Müdigkeitserscheinungen, Schläfrigkeit und geistige Ermüdung zu bekämpfen hilft. Er enthält auch Theobromin, das harntreibend und gefäßerweiternd wirkt, das Herz stimuliert und ein Muskelrelaxans ist. Darüber hinaus regt er die Thermogenese an. Dies bezeichnet den Prozess, in dessen Verlauf der Körper Kalorien verbrennt, um Wärme zu erzeugen und dadurch die Reduktion der Körperfette begünstigt.
AMIX™ Green Tea with Vitamin C enthält auch das wasserlösliche Vitamin C, das das Immunsystem stärkt. Es wird benötigt, um das optimale Funktionieren der nahrungsabbauenden Enzyme zu garantieren. Sie sorgen dafür, dass die Nahrung abgebaut wird, damit ihre Nährstoffe genutzt werden können und die Fette sich nicht im Körper sammeln und zu Übergewicht führen, sondern absorbiert werden. Vitamin C ist auch ein wirksames Antioxidans, das toxische Substanzen, die das Altern der Zellen im Organismus beschleunigen, neutralisiert.
AMIX™ Green Tea with Vitamin C ist ein Supplement, das hervorragend geeignet ist für Sportler, die sich hohen körperlichen Anstrengungen ausgesetzt sehen und damit auch einem gesteigerten oxidativen Stress. AMIX™ Green Tea with Vitamin C hilft, diesem auf gesunde und natürliche Weise entgegenzuwirken.
Wirkung:
» Exzellentes Antioxidans » Fördert den Abbau von Fetten
» Stärkt das Immunsystem » Steigert die Leistungsfähigkeit
Anwendungsempfehlungen: Nehmen Sie ein- bis zweimal täglich 1 Kapsel vor den Mahlzeiten ein.
MyoCell® 5 Phase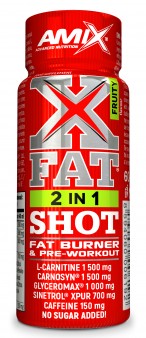 XFat® 2in1 SHOT is an excellent fat burner & pre-workout formula. mehr
CFM® Nitro Protein Isolate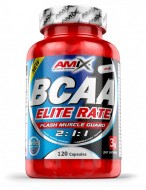 BCAA Elite Rate is a special formula composed of Branched Chain Amino Acids ( BCAA) L-Leucine, L-Isoleucine, V-Valine in an easy-to-swallow capsules. mehr
Detonatrol™