Leu-HICA™with NOP- 47™ pwd.
AMIX™ Leu-HICA™ with NOP 47™ ist ein revolutionäres Pre-Workout-Supplement der jüngsten Generation. Seine explosive gefäßerweiternde Wirkung ermöglicht ein härteres und intensiveres Training. AMIX™ Leu-HICA™ with NOP 47™ enthält außerdem HICA, ein natürliches Stoffwechselprodukt aus der Aminosäure LEUCIN, das den Katabolismus blockiert und somit den Muskelabbau verhindert. Außerdem erhöht HICA die Proteinsynthese und unterstützt die Produktion des Wachstumshormons IGF-1, das die Zunahme der Muskelmasse fördert.
AMIX™ Leu-HICA™ with NOP 47™ enthält folgende Inhaltsstoffe: Palatinose (ein Kohlenhydrat mit einem niedrigen glykämischen Index, das dem Körper die für ein optimales Training erforderliche konstante Energie liefert), Kre-Alkalyn (ein patentiertes Creatin mit einem höheren pH-Wert als Creatinmonohydrat, das die explosive und maximale Kraft erhöht und die Durchblutung der Muskel verbessert), Tri-Creatin-Citrat (das aus drei Creatinmolekülen gebunden an ein Citratmolekül besteht und bis zu 90 % absorbiert wird) sowie Koffein (das stimulierend wirkt und das Müdigkeitsgefühl verringert).
AMIX™ Leu-HICA™ with NOP 47™ ist ein unübertreffliches Supplement für Sportler, die ihre Muskelmasse erheblich aufbauen wollen.
Wirkung:
» Fördert den Muskelaufbau
» Erweitert die Gefäße
» Erhöht die Energieversorgung
» Verbessert die Muskelregeneration
» Maximiert die Nährstoffversorgung
Empfohlene Anwendung: 3 Löffel (18g) in 200-300 ml Wasser auflösen und mit einem Stabmixer 30 Sekunden rühren. Nehmen Sie das Getränk 30-60 Minuten vor dem Training ein. Zur Änderung von Geschmack und Süße des Getränks kann die Menge des beigegebenen Wassers variiert werden.
Geschmacksrichtungen: Limette-Joghurt, Orange-Joghurt
MyoCell® 5 Phase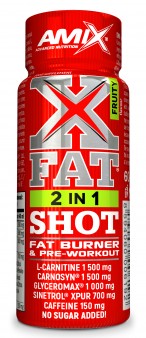 XFat® 2in1 SHOT is an excellent fat burner & pre-workout formula. mehr
CFM® Nitro Protein Isolate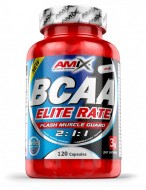 BCAA Elite Rate is a special formula composed of Branched Chain Amino Acids ( BCAA) L-Leucine, L-Isoleucine, V-Valine in an easy-to-swallow capsules. mehr
Detonatrol™