Vitargo® Crea-X pwd.
Glycogen and Creatine are two different energy stores for muscular work. The glycogen stores are used during long-time physical exercise. The creatine stores are used whenever the muscles need ultraquick, intensive/explosive energy but of short duration, for example during sprints and strength training. Vitargo® is a patented carbohydrate with unique properties, specially formulated for elite athletes to give an effective loading of easily accessible muscle energy (glycogen) in the body. Vitargo® is a considerably larger carbohydrate than ordinary sports drinks carbohydrates, the molecular structure reminds of glycogen. The larger carbohydrate, the quicker the drink passes through the stomach and then the intestines can absorb the energy into your blood stream.
This is called osmolality, the lower osmolality the quicker passage through the stomach.
Vitargo® has been clinically tested at the Karolinska Institute, Stockholm and compared with other "ordinary" sport carbohydrate drinks. The results showed that Vitargo® was quicker in replenishing glycogen levels and passing through the stomach compared with the normal combinations of complex glucose polymers. Creatine has in several clinical studies shown to increase muscular strength and also maintains the pace Langer during physical exercise with repeated bouts. Other clinical studies have shown that intake of creatine together with carbohydrates as drink stores a greater amount of creatine in the muscles. Based on these results we present the most effective mix of carbohydrates and creatine. Using Vitargo® + CREATINE your muscles can exercise a bit harder and longer. You will notice the difference!
70% QUICKER GLYCOGEN REFILLING AND THE FASTEST MUSCLE GROWTH !
♦
Carbohydrate content: 100 % Vitargo®!
♦
More effective than a creatine/dextrose mix
♦
Quicker muscular uptake of creatine
♦
The future of creatine loading is here!

Recommended use:
Usage 1 portion = 75 g = 2 scoops. Mixed in water (6 dl).
Loading phase
- Day 1-5: Drink 3 portions of Vitargo®+CREATINE divided during the day. Drink the final portion immediately AFTER a training session (if it is a training day). Adequate drinking interval is one portion every 3rd-4th hour. It is proper to drink Vitargo+CREATINE in between meals.
Maintenance phase
- Day 6 and ahead: drink 1 portion of Vitargo+CREATINE (7,5 g-creatine monohydrate/day), preferably immediately AFTER a training session (if it is a training day). Vitargo®+CREATINE effectively restores your glycogen stores after intense physical exercise as well as it gives you the benefi t of creatine.
Serving size: 2 scoops (75g)

Calories: 294       Calories from Fat: < 4,5

    of which simple carbohydrates

* Percent Daily Values are based on a 2.000 calorie diet. Your Daily Values may be higher or lower, depending on your calorie needs.

† Daily Value not established.

Kre-Alkalyn® is a registered trademark of Bioceutical Research and Development Laboratory (BR&D). Creatine Monohydrate with corrected pH - Us patent #6,399,661. International Patents Pending. All International Rights Reserved.
Ingredients:
Ultra High-Molecular Weight (500,000-700,000) Long Chain Barley Carbohydrate (Vitargo®), Creatine Monohydrate, acidifying agent: citric acid, aroma, dye (orange flavour): beetroot extract and curcumine, sweeteners: sucralose Splenda® and acesulfame-K
Best before end:
see packaging. Store at a temperature not exceeding 25°C in cool dry place away from sunlight. Warning: Do not use this product if you are pregnant or nursing. The product is not designed for children. Keep away from children. Do not exceed recommended daily dosage!
MyoCell® 5 Phase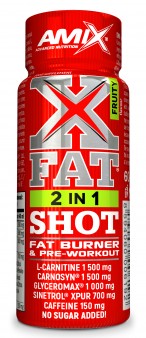 XFat® 2in1 SHOT is an excellent fat burner & pre-workout formula. mehr
CFM® Nitro Protein Isolate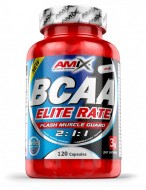 BCAA Elite Rate is a special formula composed of Branched Chain Amino Acids ( BCAA) L-Leucine, L-Isoleucine, V-Valine in an easy-to-swallow capsules. mehr
Detonatrol™